Gorgon

Level screenshot

Type

Level

Punch It x2 (summoned)

Kip Killigan x20

Sentry x7

StarFighter x2

Elements

Items

Trap x4 (2 droppped by first and third Kip)

Blue Gun x5 (1 dropped by 8th Kip)

Green Gun x5 (1 dropped by 4th, 9th and 10th Kip)

Green Chanter Token x1 (dropped by 3rd Kip)

Red Chanter Token x1 (dropped by 5th Kip)

Yellow Chanter Token x1 (dropped by 14th Kip)

Wind x4 (1 dropped by 12th, 16th and 17th Kip)

Spirit x3 (3rd by finding both secrets)

Earth x1 (by finding the Talisman)

Talisman x1

Secrets

2

Password

Circle, X, Triangle, Square, Square, Circle, Circle, X

Previous level

Next level
"I must reclaim this fortress."
- The opening speech from Archer when starting the level

Floating Fortress is the second level in the PS1 game Small Soldiers. It is never seen or heard of in the film. It is a level on the player one mode of the game. Archer must destroy the StarFighters using the Harpoon and find all three of the coloured Chanter Tokens in order to obtain the Keys to unlock the coloured Doors to open the Portal at the end to complete the level, namely green, red and yellow.
Walkthrough
Edit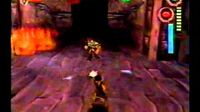 When starting the level, the Mission Screen shows the following missions:
"The flagship of the Gorgonite fleet it under siege!"
"Gather the chanters the activate the engine!"
"Use the Harpoon the repel StarFighters."
"Kip won't stop until he captures the vessel!"
"Punch It is despearate to hold it!"
Level Features
Edit
The first secret is behind the red door, by going onto the platform with the Harpoon it is on a ledge in a corner containing a Talisman and green gun.
The second secret contains a Trap, Spirit and blue gun and is in another corner of the same room.
This is the first level chronologically to contain a Harpoon StarFighter, Punch It and Trap.
This is the first level in which something other than Chanters open the Portal, as destroying the StarFighters activate it.
Ad blocker interference detected!
Wikia is a free-to-use site that makes money from advertising. We have a modified experience for viewers using ad blockers

Wikia is not accessible if you've made further modifications. Remove the custom ad blocker rule(s) and the page will load as expected.